Thursday, November 19, 2020
12:00 – 1:00 pm
via Zoom
Join me for an artist talk about my work and research regarding Eternal Becoming, In/Habitable, and a new series of papermaking work.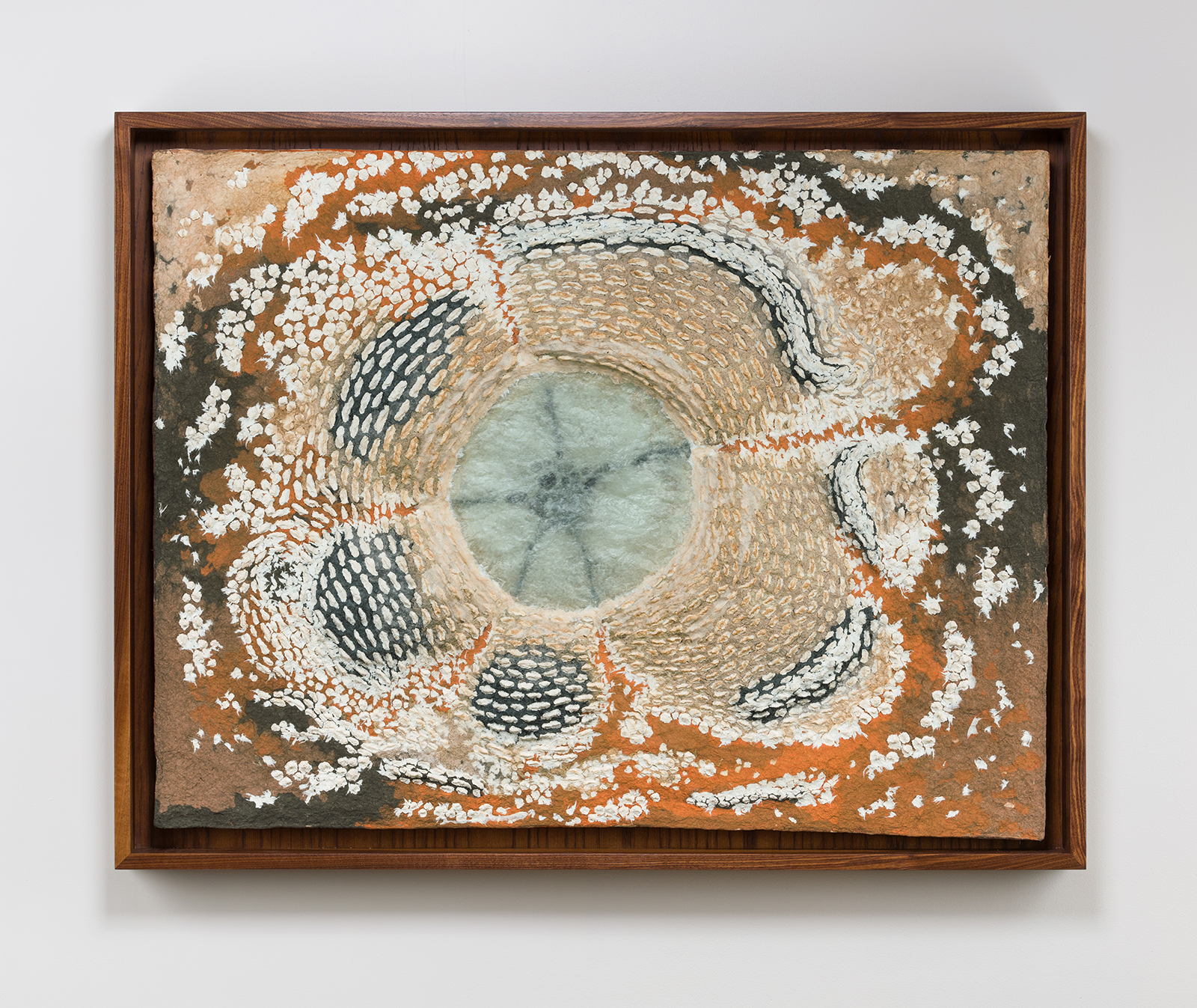 ---
Mud Pot: Lassen is on view at the Palos Verdes Art Center in HABITAT CALIFORNIA: Flora & Fauna.
February 8 – April 18, 2020
Opening Reception: Saturday, Feb. 8, 6 pm – 9 pm
Invitational and Juried Exhibition
Juror: Tulsa Kinney, Editor of Artillery
Palos Verdes Art Center / Beverly G. Alpay Center for Arts Education | pvartcenter.org
5504 Crestridge Rd
Rancho Palos Verdes, CA 90275
Palos Verdes Art Center / Beverly G. Alpay Center for Arts Education is pleased to announce HABITAT CALIFORNIA: Flora & Fauna, an invitational and juried exhibition featuring the plants and wildlife of California in the shifting ecosystems they inhabit. The exhibition presents over 100 works of art in wide-ranging styles and media, including plein air landscape paintings, botanical drawings, and sculpture as well as installation art, video, film, and internet art. Topics include: • Continuing the California Landscape and California Impressionist traditions • The intersections of urban, suburban, and wildlife habitats • The effects of climate change on wildlife and botanical habitat and species • Explorations in new media featuring California flora and fauna and their ecosystems. Contemporary works are accompanied by loans from private collections of 18th and 19th-century botanical prints and ornithologies as well as landscapes by noted early California artists, including William Wendt, Charles Reiffel, Edgar Payne, Clark Hobart, Theodore Robinson, and Ansel Adams.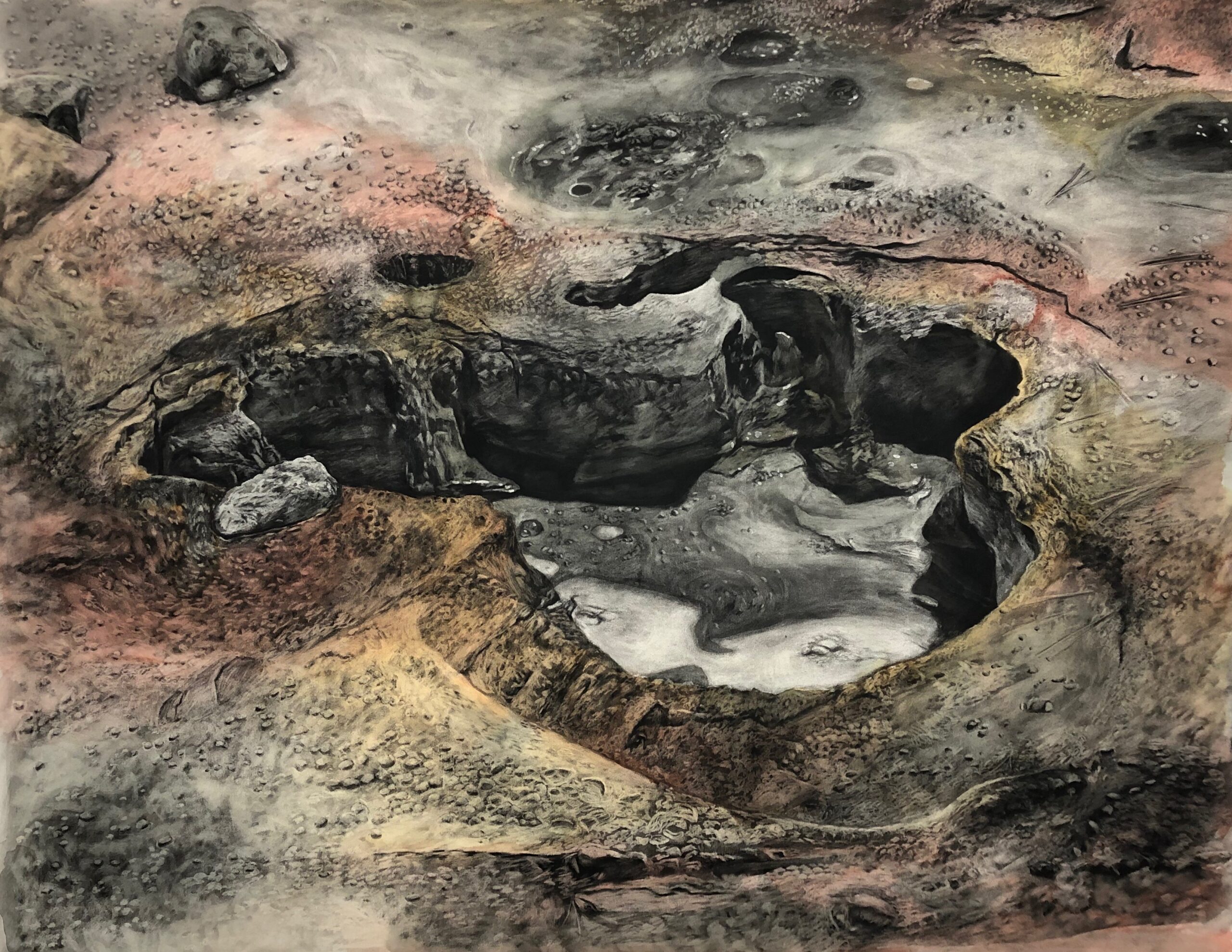 Mud Pot – Lassen, 2019
Ink, charcoal on paper
3 x 4 ft
---
Necropolis 6: Grave 2 and Necropolis 6: Grave 3 from Eternal Becoming are on view currently in Cincinnati, OH in the Weathered exhibition.
January 24 – February 21, 2020
Opening Reception: Friday, January 24, 6 pm – 9 pm
Manifest Gallery
2727 Woodburn Avenue
Cincinnati, Ohio 45206
WEATHERED
Wear And Tear
"Life is a series of natural and spontaneous changes. Don't resist them; that only creates sorrow. Let reality be reality. Let things flow naturally forward in whatever way they like." ― Lao Tzu
The Japanese concept of wabi-sabi includes the appreciation for the ingenuous integrity of natural objects and processes. Time wears all things. Literally taken weathering is an aspect of the elements, but not without time. Wind, rain, sun, fire, and ice, and even mechanical means, transform everything. Weathering then is the process by which things in our world, and the world itself, are in the process of always becoming. In appreciating such processes one becomes aware of the signs of surviving age, stress, life, the toll of an ordeal or accomplishment, and existence itself. Through weathering a compelling narrative unfolds. For this exhibit 128 artists from 34 states and 7 countries including Canada, China, Denmark, Israel, Italy, Japan, and the United States submitted 496 works for consideration. Eleven works by these 9 artists from 7 states and Italy were selected by a blind jury process for presentation in the gallery and the Manifest Exhibition Annual publication.
---
For the month of January 2020, I have had the opportunity to learn the art of traditional papermaking with Jenn Woodward of Pulp & Deckle through the papermaking residency hosted by c3:initiative. This residency encourages artists to look beyond paper as a surface. It has allowed me to create reliefs with the paper pulp of hot springs and mud pots that I saw on my trip to Yellowstone National Park last summer. We made 17 pounds of cotton rag, abaca, mitsumata, cotton linter and iris paper pulp using both recycled fabrics and plant fibers. The work will be exhibited at c3:initiative in April.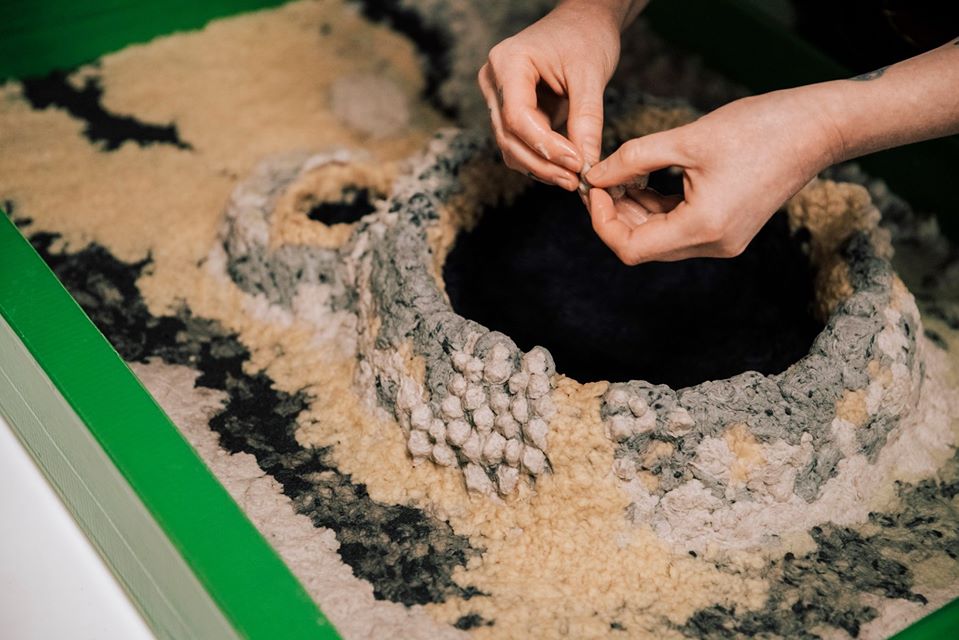 Work in process
Photo: Sam Gehrke
---
New studio as of October 2019! Come visit Sunday, December 8th from 11 am – 4 pm.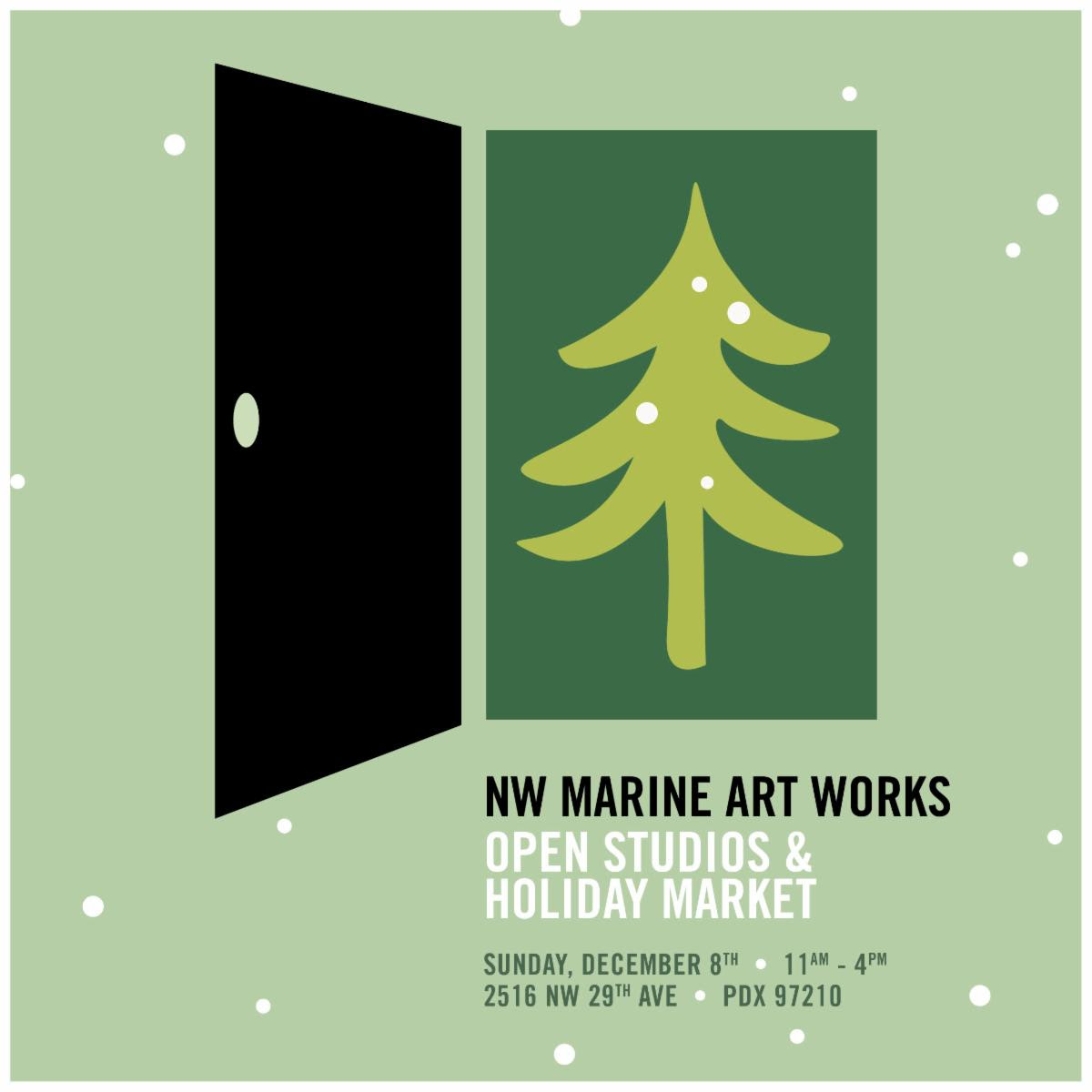 ---
November 15 – November 17, 2019
Monona Terrace Community and Convention Center
1 John Nolen Dr, Madison, WI 53703
Megan Hanley will exhibit a new drawing titled, Ecology of a Porous Vessel, as part of Sigma Xi's STEM Art & Film Festival in Madison, WI. She will give a talk with Virologist, Nacho de la Higuera, Research Assistant at the Center for Life in Extreme Environments at Portland State University about how the study of microbial life thriving in hot springs inspired a series of drawings and ceramic sculptures and reflect on conditions necessary to sustain life.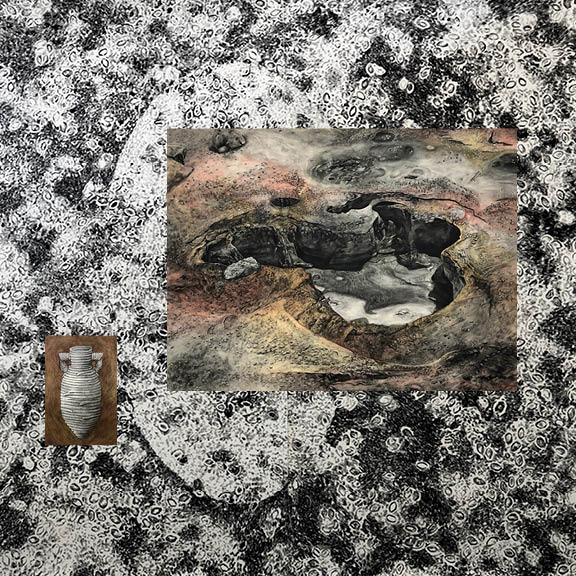 Ecology Of The Porous Vessel, 2019
Charcoal, Ink on paper
8 x 8 ft.
Science and Art in Extreme Environments
Our Place Within a Changing World
Oral Presentation
November 17, 2019
10:00 – 10:30 am
Exhibit Hall
Monona Terrace

In recent years, scientific research has unveiled extraordinary networks among organisms of very different nature, from complex multicellular organisms, to single cells, to viruses. Humans are a byproduct of the evolution of all life, and increasing lines of evidence emphasize how microorganisms have contributed to shaping who we are. Cooperation is an essential evolutionary force, even in extreme environments such as hydrothermal vents and volcanic hot springs. For instance, the genomic characterization of the viral diversity in an unusual hot and acidic lake in Lassen Volcanic National Park has revealed the extent of gene sharing between distantly related viruses. By studying the thriving communities of thermophilic microorganisms, we understand where the limits of life on this planet are, and realize the fragility of the human condition.

The volatile terrain, ecosystems, and organisms discovered at Lassen inspired the creation of artworks that attempt to bridge the gap between extremophiles and human culture. Microscopic imagery and scientific information were processed through an art historical lens where details about the cellular and capsid structures of extremophiles, for example, were compared to ceramic artifacts crafted for storing and trading food in the ancient world. The resulting exhibition ties together lessons learned from the study of extremophiles about the origins of life, enrichment communities, and our connection to the environment throughout history. A paradigm shift in thinking about our place in the world brought about through the intersection of science and art is necessary to counter our own anthropocentrism so we can begin to tackle the climate crisis and design societies, economic structures, and technologies with the complexity of the ecosystem in mind.
---
September 15 – December 31, 2018
Broadway Gallery
Lincoln Hall, 1st floor
1620 SW Park Avenue
Portland, OR 97201
Reception and Artist Talk: October 18, 2018, from 5:30 pm – 7:30 pm
Lincoln Hall, Room 75

The In/Habitable exhibit is a collaboration with the Center for Life in Extreme Environments (CLEE) at Portland State University that urges engagement with art, philosophy, and science.
After receiving the Andries Deinum Prize for Visionaries and Provocateurs in 2017, Megan Hanley joined microbiologists from PSU to study organisms that live in hot springs and bubbling mud pots at Lassen Volcanic National Park. The resulting artworks reflect on the conditions necessary to sustain life, while also considering the complicated relationship humans have with the environment.
The talk will include presentations by two PSU biologists who study life in extreme environments: master's candidate Emily St. John, who will speak about "Life in a Cooking Pot: Microbial Communities," and research assistant Ignacio de la Higuera, who will present "Omnis virus e virus."
This event is sponsored by PSU's College of the Arts. In/Habitable is also funded in part by a grant from the Regional Arts and Culture Council.
---
Check out the latest issue of New American Paintings – Pacific Coast – #133! I am so honored to be included amongst other fantastic artists.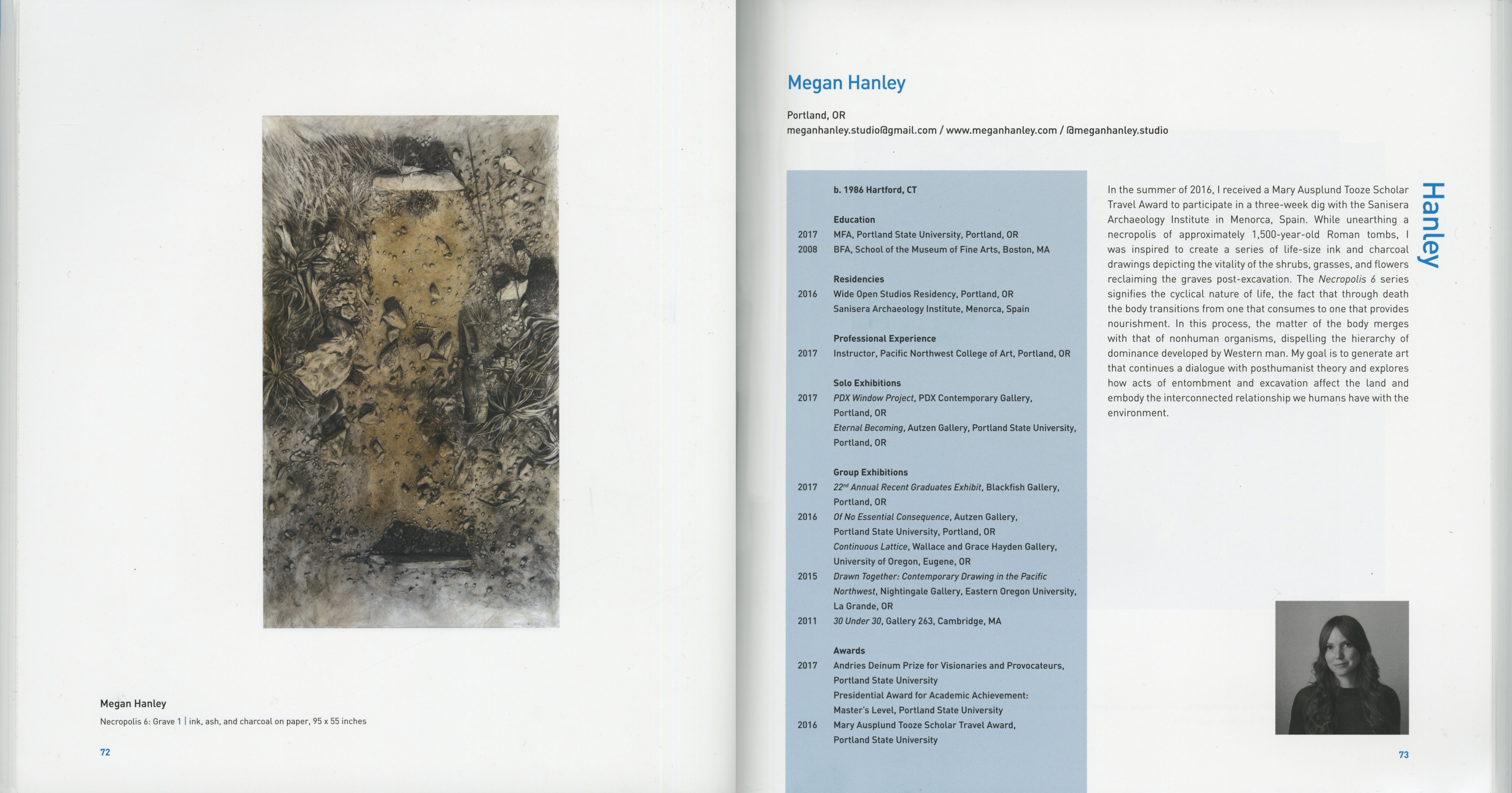 ---
I am excited to announce that I have received a Project Grant in Artistic Focus from the Regional Arts and Culture Council for the In/Habitable project. The solo exhibition and public artist talk will take place in the fall of 2018.
---
Eternal Becoming
Friday, October 6 – Sunday, October 29, 2017
Opening Reception: Friday, October 6, 2017, 6 – 9 p.m.
Tropical Contemporary
1120 Bailey Hill Rd #11
Eugene, OR 97402
Open Sundays, 12 p.m. – 5 p.m.
Tropical Contemporary presents a solo show of drawings by Megan Hanley from October 6-29th
In the summer of 2016, Hanley received the Mary Ausplund Tooze Scholar Travel Award to participate in a three-week dig with the Sanisera Archaeology Institute in Menorca, Spain. Excavating a necropolis of approximately 1500-year- old Roman graves, Hanley lay on her stomach digging in the hot sun, caked in the red earth and littered with bone dust. "A short walk away was another necropolis in which the graves had been excavated and backfilled years prior and was now blooming with shrubs, grasses, and flowers reclaiming the disturbed earth for the wild. With the sun at my back, my shadow was projected into the length of the grave. Upon seeing my body mixed with the dirt, stones, and plants, I experienced a feeling of close connection to the land and the ancient people. It is my goal to generate art that speaks to my experiences and explores how acts of entombment and excavation affect the land and embody the interconnected relationship we humans have as part of a larger environment."
For the exhibition Eternal Becoming, Hanley has created labor-intensive drawings with charcoal, ink, dirt, and ash of the plant life taking over the tombs that the ancient skeletons once inhabited. Upon approaching the work, the viewer is enveloped into the scene, able to project their body into the life-size tomb.
This work will be on view for the month of October, with opening hours on Sundays from 12-5pm and an opening reception on Friday, October 6th from 6-9pm.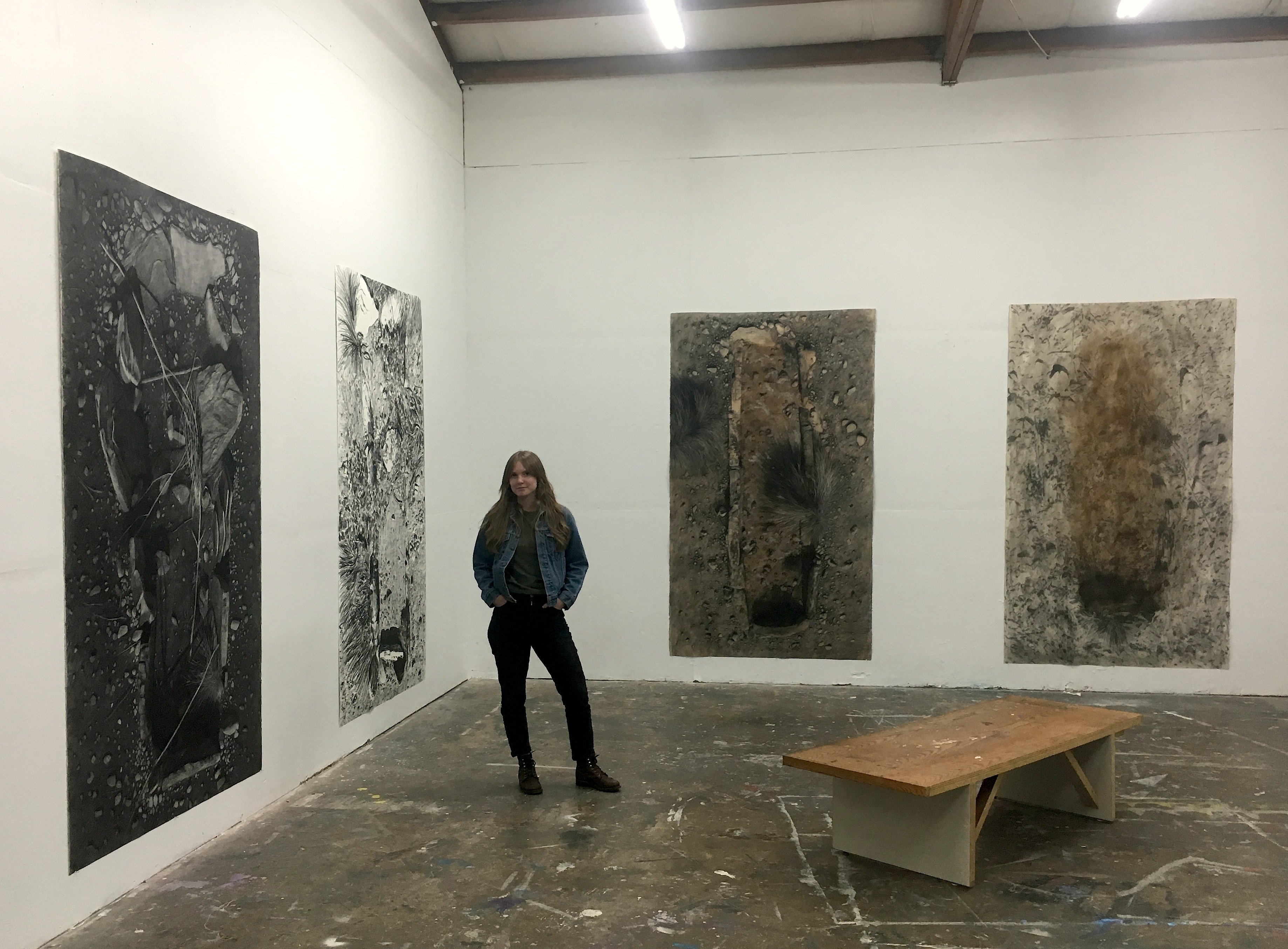 ---
I am honored to announce that one of the drawings from Eternal Becoming was selected to be shown in the PDX Window Project for the month of September 2017.
PDX Contemporary Gallery
925 NW Flanders
Portland, Oregon 97209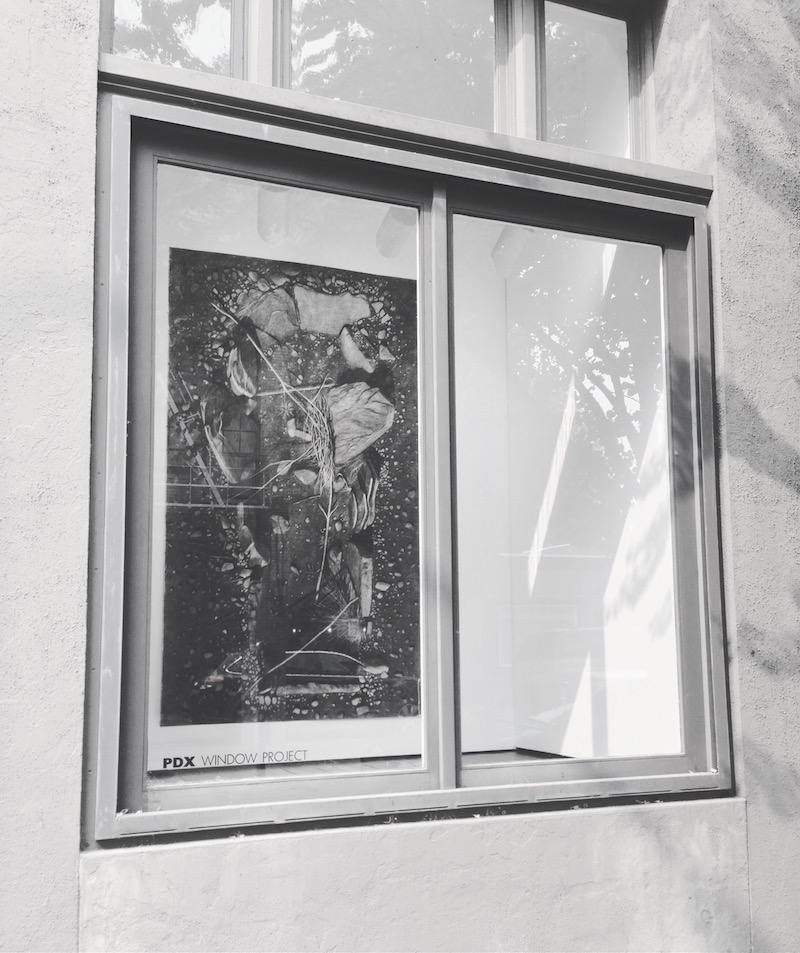 On view in the PDX Window Project
Necropolis 6: Grave 3, 2017
Charcoal on paper
95" x 55"
---
2017 Andries Deinum Prize for Visionaries and Provocateurs
Portland State student Megan Hanley, who graduates with an MFA in Art Practice in June, has been awarded the $10,000 Andries Deinum Prize for Visionaries and Provocateurs from the PSU College of the Arts. She will use the prize money to undertake an ambitious drawing project in collaboration with the Center for Life in Extreme Environments at PSU. Hanley will join scientists in the field, conducting research on organisms that live in extreme environments and creating a body of artwork that urges community engagement with art, philosophy, and science.
Working with PSU Biology professor Dr. Annie Lindgren, Hanley will travel to hot springs and deserts to collect samples of three different forms of extremophiles. She'll study bacteria that live in hot springs, mosses that live beside hydrothermal pools, and fish that live in temporary pools in the desert, hatching from dried eggs in the dirt after a rainstorm.
Based on this research, Hanley plans to create a series of charcoal drawings, making visible the unseen ecosystems in which these organisms thrive. She says, "Art has the ability to bridge the gap between hard science and human experience. I am interested in how I can use scale and the medium of drawing to relate an invisible biological community to the viewer's own body to alter one's sense of space."
Hanley is the second recipient of the Andries Deinum Prize for Visionaries and Provocateurs, the largest cash award in the PSU College of the Arts. The prize is given to a student who is committed to expanding public dialogue via creative artistic expression, original research or an innovative project highlighting the role and value of art in the 21st Century. The prize is named for the late film educator and PSU professor Andries Deinum (1918-1995), who transformed Portland's cultural and intellectual landscape through his innovative use of film in education. The prize was established with gifts from devoted former students, colleagues and others inspired by Deinum's humanist values.
The selection committee was impressed by Hanley's artistic engagement with broad social and scientific issues including climate change and scientific literacy. "Megan's project emphasizes human connection to the natural world through exquisite artistic detail," says Sue Taylor, Ph.D., the interim dean of the College of the Arts. "Andries Deinum believed in art with a purpose, using his filmmaking to ignite community conversations around the important issues of his day," Taylor says. "By bridging scientific and artistic forms to explore the impact of humans on the environment, Hanley is continuing Deinum's legacy in Portland."
Hanley has prior experience creating art based on scientific research: for her graduate thesis project, she participated in an archeological excavation of an ancient Roman necropolis in Spain, funded by the Mary Ausplund Tooze Scholar Travel Award. After three weeks of meticulous excavation in the hot sun, Hanley created a series of life-size charcoal drawings of the graves, with detailed renderings of plants that had grown over the disturbed earth emphasizing the connection between decay and regrowth.
Dr. Lindgren, the Biology professor, says that Hanley "has an ability to interpret the connections between humans and the natural world that is very distinct from how scientists perceive these same connections; her ability to appreciate and question our science pushes us to think about novel approaches to our research."
Author: Suzanne Gray, College of the Arts
May 31, 2017
---
Eternal Becoming
Monday, May 15 – Thursday, May 25, 2017
Opening Reception: Wednesday, May 17, 5 – 7 p.m.
Artist Talk: Wednesday, May 24, 6 p.m.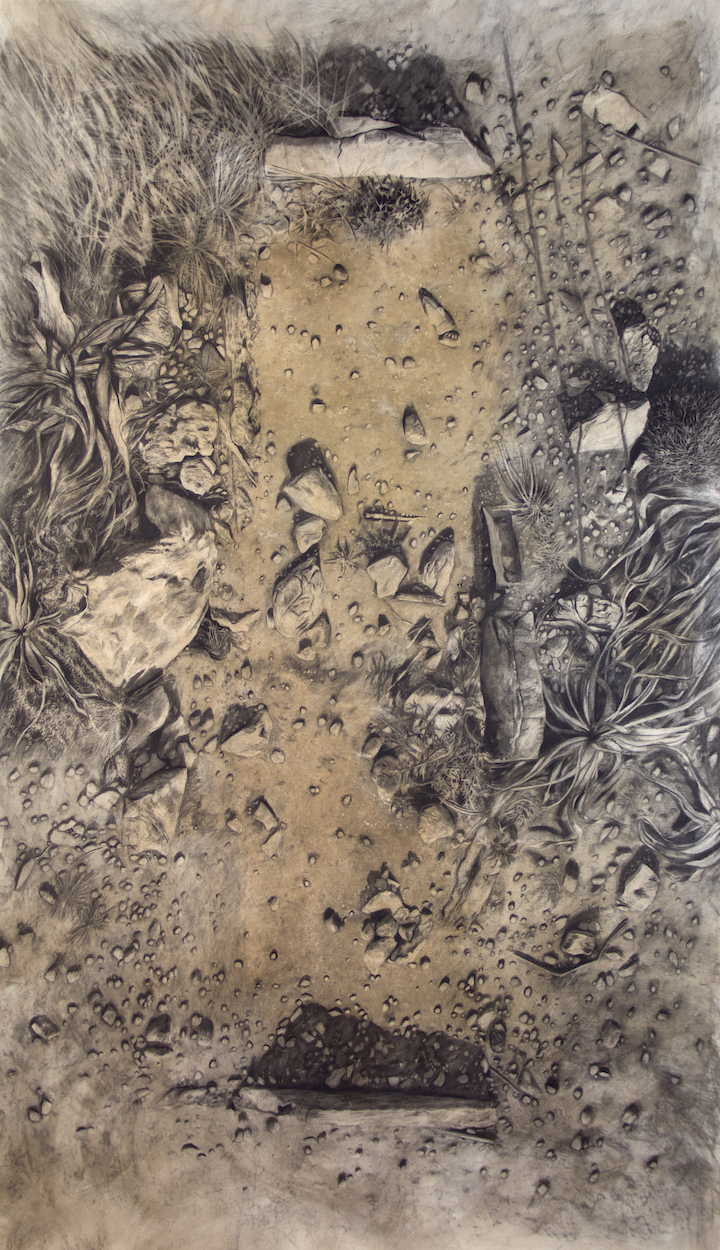 Necropolis 6: Grave 1, 2017
Ink, ash, charcoal on paper
95" x 55"
Autzen Gallery
Neuberger Hall
Portland State University
724 SW Harrison St. #205
Portland, OR 97201
Open Monday-Friday, 10 a.m. – 5 p.m.
The School of Art + Design at Portland State University is pleased to present Eternal Becoming, an exhibition by Megan Hanley that investigates humanity's connection to the larger ecosystem through the ritual and biological processes of death. As a research-based artist working in drawing, Hanley builds up layers of charcoal to obscure and heighten the illusion of depth in a series of life-size drawings of tombs filled with plants. When confronted with the scale and orientation of seeing the graves on the wall instead of on the ground the drawings elicit a visceral reaction in which the viewer relates their own body to the looming grave.
In the summer of 2016, Hanley received the Mary Ausplund Tooze Scholar Travel Award to participate in a three-week dig with the Sanisera Archaeology Institute in Menorca, Spain. While excavating a necropolis of approximately 1500-year-old Roman graves, Hanley worked lying on hard stone with her arm deep in a tomb. Caked in dirt and microscopic bone dust, she experienced a feeling of close connection to the land and the ancient people she was uncovering. Back in the studio, she created drawings from an aerial perspective using ink, ash, dirt from the dig, and charcoal of the graves in which plants began to take over the disturbed earth post-excavation. Similar to the archaeological dig, her whole body is part of the process; lying on the ground she excavates the drawings by erasing layers of charcoal and brushing away dust.
Hanley is interested in the ways in which humans have interacted with the land throughout history, specifically in acts of continual entombment and upheaval that mirror biological and geologic processes. The drawings of the graves that Hanley created highlight the florae with a draughtsman's attention to detail to emphasize the role of humans as part of a greater ecosystem that through death allow the body to transition from one that consumes to one that provides nourishment.
For press inquiries please email [email protected]
Megan Hanley (b. 1986 Hartford, CT) is an artist who lives and works in Portland, Oregon. She creates art to continue a dialogue around the theory of posthumanism and the physical processes of biology and geology. By creating drawings utilizing natural materials from sites of investigation she urges us to consider that humans are part of a complex ecosystem, equal to bacteria, minerals, plants, and animals. In the summer of 2016, Hanley took part in a backpacking residency with Signal Fire in the Siskiyou Mountain region of Northern California, and a three-week dig with the Sanisera Archaeology Institute on the island of Menorca, Spain. Her work has been selected for juried exhibitions at Gallery 263 in Cambridge, MA, the Nightingale Gallery at Eastern Oregon University, La Grande, OR and the Littman Gallery at Portland State University, Portland, OR. Hanley received a BFA in Art Education from the School of the Museum of Fine Arts, Boston in 2008 and will receive an MFA in Contemporary Art Practice from Portland State University in 2017.
Eternal Becoming by Megan Hanley is presented as part of the MFA Season 2017 for Portland State University's Master of Fine Art in Contemporary Art Practice: Studio program. Detailed information about individual exhibitors, gallery hours and events please visit http://psumfastudio.org. The exhibitions and presentations are free and open to the public.
Facebook Event Page – Opening Reception May 17th
Facebook Event Page – Gallery Talk May 24th
SaveSave
SaveSave
SaveSave
SaveSave
SaveSaveSaveSave
SaveSave
SaveSave
SaveSaveSaveSaveSaveSave
SaveSave
SaveSave
SaveSave
SaveSave
SaveSaveSaveSaveSaveSave
SaveSave
SaveSave
SaveSave